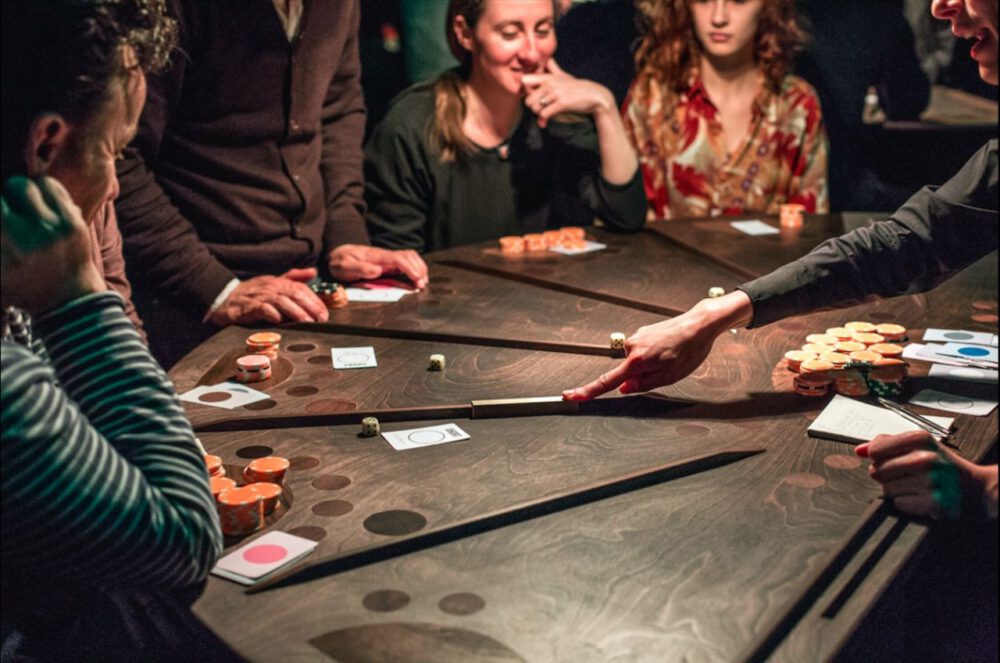 "The best way to rob a bank, is to own one" William Crawford, Commissioner of the California Department of Savings and Loans
Whether falsities or currencies, this is about money. Ontroerend Goed invites you to get under the skin of the well-to-do, the 1%, the super rich, the ones who pull the strings, the faces we never get to see.
For one night, you can take their chairs. You call the shots. You're in the centre of our economic system. You shape the course.
And who knows, you might make the world a better place, more fair, more responsible, because you'll do things differently, for sure.
After the Personal Trilogy (The Smile off your Face, Internal & A Game of You), Ontroerend Goed aims at what you truly value: money. They invite you to get around the table and play the system from within.
P.S. If you come, please take some money. Cash, because we don't trust the pixels on your screen that tell us how much money you supposedly possess.
CREDITS
Director: Alexander Devriendt
Script: Joeri Smet, Angelo Tijssens, Karolien De Bleser, Alexander Devriendt
Cast: Joeri Smet, Angelo Tijssens, Karolien De Bleser, Samir Veen, Hannah Boer, Aurélie Lannoy, Joeri Heegstra, Britt Bakker, Charlotte De Bruyne, Bastiaan Vandendriessche, Robin Keyaert, Max Wind, Sjef van Schie, Aaron Gordon, Eliane Zwart, Tiffer Hutchings, Leonore Spee, Luca Bryssinck, Marieke Anthoni, Mitch Van Landeghem, Nora Ramakers
Music: Johannes Genard
Design: Nick Mattan
Scenography: vormen
Coproduction with Kunstencentrum Vooruit, Theatre Royal Plymouyth and Richard Jordan Productions