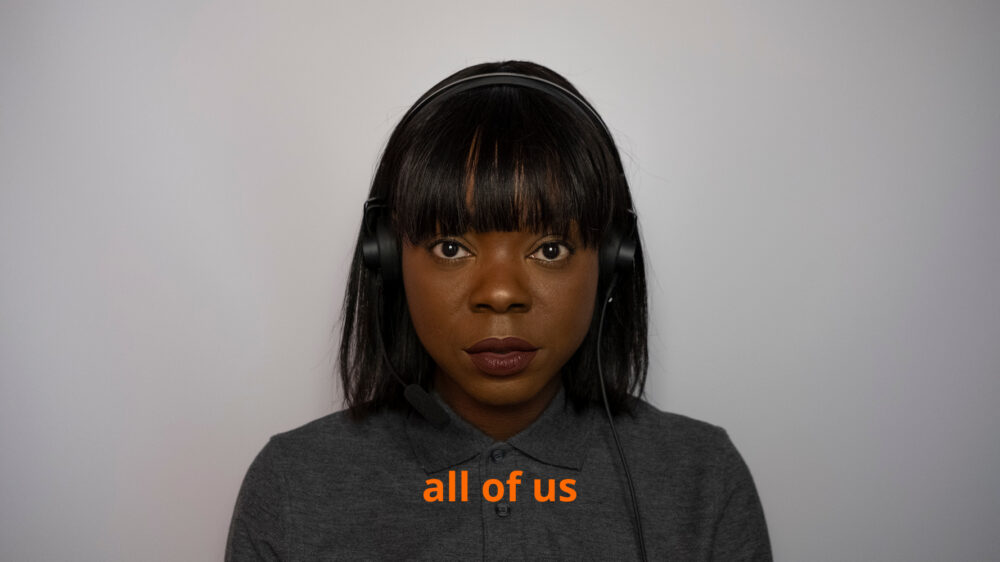 A one-on-one virtual performance in the form of an intake-talk. Through a series of questions, the spectator is being checked as a potential member of the organization that believes in the goodness of human kind.
Today, a secret cell of our movement has executed a successful worldwide operation.
We hold the victory in our hands and our overwhelming march is on the rise. We will triumph and fight the infidels.
Our brothers and sisters are among you. Inconspicuous. Invisible.
We are many.
We are global
We are TM*
*If you're wondering what this acronym stands for, and how you can become a member, we're happy to invite you to an explorative talk, under no obligation. First consult = free.
We have fallen upon evil times and the world has become very old and wicked. Politics are very corrupt. Children are no longer respectful to their parents.
- King Naram Sin of Chaldea - 3800 BC
Director: Alexander Devriendt
Text: Alexander Devriendt, Angelo Tijssens, Aurélie Lannoy, Karolien De Bleser, Samir Veen
Scenography/design: David Williamson, Nick Mattan
Costumes: Nick Mattan
Video: David Williamson, Angelo Tijssens
Software: created by Upian in Ohyay, Adélaïde Desnoë, Gregory Trowbridge, Sébastien Brothier
Sound: Senjan Jansen
Cast: Aaron J. Gordon, Adina Macpherson, Alexander Sinyakovich, Alexey Lyubimov, Angelo Tijssens, Aurélie Lannoy, Cédric Coomans, Charlotte De Bruyne, Daniel Mutlu, Daria Bashkirova, Ekaterina Shibaeva, Emilie Bisetti, Florian Pautasso, Francesca Gabucci, Giacomo Lilliù, Hendrik Kegels, Johannes Wirix-Speetjens, Julia Ghysels, Karolien De Bleser, Leonore Spee, Lisa Schamlé, Luca Bryssinck, Marjan De Schutter, Marieke Anthoni, Marie Peeters, Nora Ramakers, Robin Keyaert, Samir Veen, Sascha Bornkamp, Sonja Van Ojen, Tiffer Hutchings, Tijmen Govaerts, Vincent Doddema
Technical support: Pepijn Mesure
Production/planning: Charlotte Nyota Bischop, David Bauwens, Marie Peeters
Production: Ontroerend Goed
Co-production: Almeida Theatre (UK), ART HAPPENS (BE), Cambridge Junction (UK), De Brakke Grond (NL), Espoon Kaupunginteatteri (FI), Feodor Elutine Impresario Moscow (RU), Festival Mythos (FR), IDFA (NL), Kunstencentrum Vooruit (BE), Le Carreau – Scène Nationale de Forbach et de l'Est mosellan (FR), L'ESTIVE Scène Nationale de Foix et l'Ariège (FR), Marche Teatro/Inteatro Festival (IT) , RE:LOCATION// by Wildtopia (DK), Richard Jordan Productions (UK), Staatstheater Mainz (DE), The Esplanade (SG), The National Theatre London (UK), Teatro do Bairro Alto (PT), Theatre Royal Plymouth (UK)
Special thanks to: Zwart op Wit
With the support of the Flemish Government and the City of Ghent.
This show was made possible with the support of the Tax Shelter measure from the Belgian Federal Government.
Diffusion: ART HAPPENS