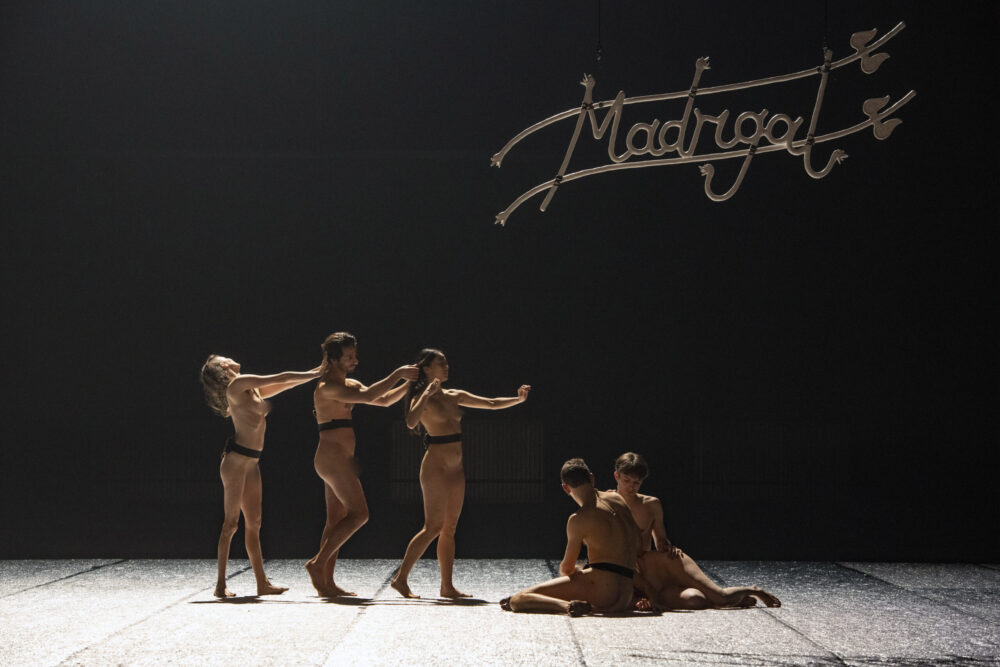 In MADRIGALS Benjamin tackles Claudio Monteverdi and creates a contemporary and uninhibited orgy, in which the boundaries between the human and the divine are blurred. MADRIGALS is an encounter, a cry for freedom, fuelled by passion and fighting spirit. The performers search for a life without inhibitions, where love and experiencing sexuality are of the greatest importance, freed from the conservative dogmas that still dictate our behaviour today.
Six dancers and two classically trained singers sing Montiverdi's eighth Madrigals book Madrigali guerrieri ed amorosi (every lover is a warrior). They meet in an ancient cave – the beginning of everything for Benjamin – and reflect on a new age, a new utopian world. The eight, diverse performers in MADRIGALS use their primal voices to tell their own stories of love and war as well.
Japanese-Canadian composer and visual artist Doon Kanda (aka Jesse Kanda) composed Montiverdi's eighth book of Madrigals as an electronic counterweight to classical music. Kanda has no classical background and is known for his collaborations with musicians such as Arca, FKA Twigs and Björk. The quartet B'Rock Orchestra will perform the classical music live. On special occasions, Jesse Kanda will also be on stage.
Concept and direction: Benjamin Abel Meirhaeghe
With: Hanako Hayakawa, Alice Giuliani, Els Mondelaers, Lucie Plasschaert, Khaled Barghouthi, Clément Corrillon, Victor Dumont, Antonio Fajardo
Composition: Claudio Monteverdi /Doon Kanda (aka Jesse Kanda)
Musical direction: Wouter Deltour
Musicians and quartet: Madoka Nakamaru, Wouter Deltour, Pieter Theuns, Rebecca Huber or David Wish
Dramaturgy and research: Louise van den Eede
Light and set design: Zaza Dupont, Bart van Merode
Co-curator artworks: Koi Persyn
Voice coach: Rosanne Groenendijk
Body coach: Sophia Rodriguez
Music coach: Pieter Theuns
Shibari coach: Marc BeShibari
Visual artists: Sanam Khatibi, Justin Fitzpatrick, Thomas Renwart, Anthony Ngoya, Gilles Dusong, Christiane Blattmann, Daan Couzijn, Che Go Eun, Tom Hallet, Nokukhanya Langa, Tristan Bründler
Video: Filip Anthonissen
Costumes: Kasia Mielczarek
Teaser and making off: Charles Dhondt
Photography cave: Thibaut Lampe
Production: Sebastiaan Peeters, Laura Arens
Light design: Danielle van Riel
Sound design: Karel Marynissen, Bart Celis
Video and surtitels: Pieter-Jan Buelens
Technicians: Pat Caers, Janneke Donkersloot, Kevin Deckers
Technical assistants: Peter Quasters, Anne Van Es
Stagehand: Lars Morren
Production-assistent: Pablo González
Director assistent (intern): Ika Schwander
Website: Studio Dier (www.madrigals.be)
Produced by: Muziektheater Transparant and d e t h e a t e r m a k e r
Co-production: DE SINGEL, Productiehuis Theater Rotterdam, Concertgebouw Brugge, B'Rock Orchestra, C-Takt en Perpodium
In collaboration with O. Festival for Opera. Music. Theatre, Opera Ballet Vlaanderen, Troubleyn/Laboratorium, Matterhorn VZW
With the support of the Flemish Government and Tax Shelter of the Belgian Federal Government
Special thanks to: Showtex, Kopspel, Divi-divi and The caves of Dinant
Diffusion: ART HAPPENS